Digital marketing for hospitals has several advantages. It provides consumers with accurate information about the healthcare organization. Online presence is a twenty-four-hour extension of your brand.
Moreover, wrong information can spread like a viral. This affects the reputation and customer base of the organization.
So, the first benefit of digital marketing for hospitals is the accuracy of information. This helps to create a good image and increase consumer trust.
Here are some benefits of digital marketing for hospitals.
SEO
A hospital's online presence is crucial to retaining and attracting new customers. A patient may not be able to come in during regular business hours, but they can always find information about the hospital online, 24 hours a day. Search engine optimization (SEO) for healthcare practices can help a hospital to appear higher on the search results, boosting customer satisfaction and loyalty.
Building a brand online. Social media is a great way to connect with patients and build trust. Moreover, these platforms can target specific demographics and locations. By connecting with patients and interacting with them through these platforms, healthcare professionals can improve their reputation and increase their patient base. Healthcare SEO companies can tailor the content of the website to match the needs of visitors. These companies speak the language of the target audience, which helps patients feel comfortable and engaged with the content.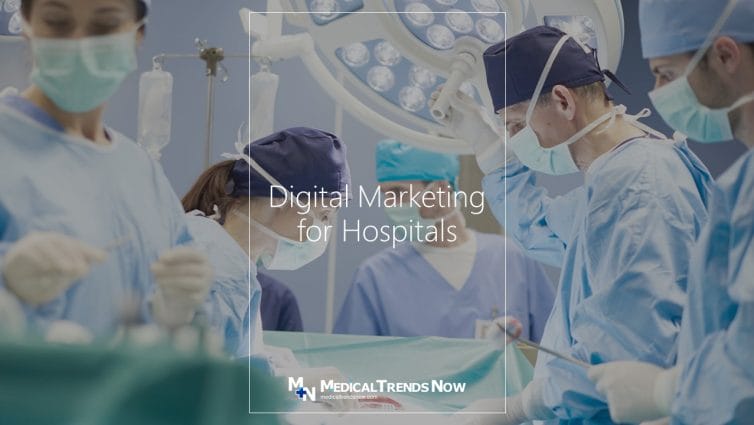 Social media
With the power of social media such as Facebook, TikTok, LinkedIn, and Twitter, medical hospital marketers can easily reach a wider audience than they might have if they were to rely only on traditional advertising.
Almost 76% of patients visit their hospital websites to research their health needs, as opposed to 32% that use TV or newspapers.
By utilizing social media, healthcare marketers can easily monitor the success of their campaigns and can react to feedback in real-time. Here are a few examples of ways in which digital marketing can help medical centers and clinics.
First, social media can increase awareness of preventative services. According to the World Health Organization, 70% of women worldwide should get a cervical cancer screening, and this is one way to do it through social media.
Many health organizations focus on the prevention and early detection of disease, and medical center hospitals can use social media to promote screening services and preventive care.
In addition to being an effective marketing tool, social media can help hospitals engage with their communities through dialogue and even initiate their own discussions.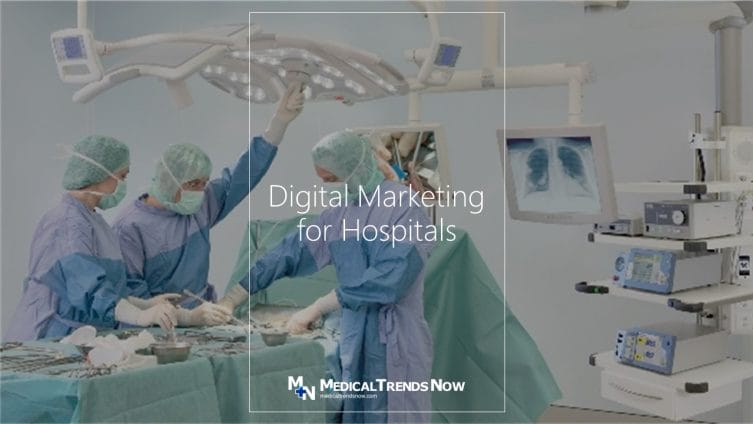 Mobile marketing
Mobile marketing is a crucial element in engaging customers and driving sales. Consumers, clinicians, and purchasing professionals use mobile devices to access information, and mobile marketing provides a direct line to them.
Patients use mobile devices to make appointments, research symptoms, and compare prices. The benefits of mobile marketing for medical centers are substantial. This article will outline the key factors to consider when implementing a mobile marketing strategy for your hospital. Read on to discover more.
Unlike in the past, patients do not have to wait for hours in a waiting room. With the latest apps, patients can book appointments with doctors, physical therapists, dentists, medical technologists, and other physicians on the go, search for a physician with particular experience, and purchase medicines online.
Other features of mobile applications are downloadable medical reports, allowing patients to give them to their doctors online. And patients can even purchase various products through medical clinics and hospitals.
By using mobile marketing for hospitals, patients can learn more about their health and get better faster.
Cost-effectiveness of digital marketing for hospitals
For hospitals, digital marketing offers an excellent way to reach a wide range of audiences and optimize conversion rates. Currently, 83% of patients will check a hospital's website before making an appointment.
The website should be mobile-friendly and easy to navigate. Messages should complement the ads and help reduce bounce rates. The curation of digital media campaigns should be prioritized, and medical marketers should monitor campaign click-through rates regularly.
Ultimately, the goal is to attract new patients without spending more than necessary.
Digital marketing for hospitals can improve audience reach (potential patients) and service awareness. As many as 44% of mobile users research hospitals prior to scheduling an appointment, digital marketing can reach and engage the largest possible audience. This increases customer retention and improves customer satisfaction.
The cost of acquiring a patient referral can be reduced by up to 40 percent. This is a fantastic ROI and a cost-effective marketing solution for hospitals.
If you want to increase the cost-effectiveness of your marketing campaigns, you may contact Medical Trends Now team and learn about the various digital marketing options for your medical hospital.
Reaching individual patients
When it comes to reaching individual patients, digital marketing is an excellent option for healthcare services. Traditional marketing requires a generalized message, but you can target specific patients with tailored messages with digital marketing. For example, you can target millennials with multiple sclerosis, a 40-year-old in Coeur d'Alene, or a patient in need of treatment for Parkinson's disease. In addition to this, healthcare services can personalize their content to meet the needs of these patients.
While it's not practical to target every single patient with a branded campaign, you can do a lot to increase your reach. For instance, email reminders can be automated and personalized. You can also use social media to connect with patients. However, remember to keep medical history out of your advertisements, as Google prohibits them. In addition, make sure your hospital's website is well-organized and includes relevant information, such as contact information for returning patients, and offers a password reset process.
Guest blogging: Digital marketing for hospitals
Backlinks or link building are important for any website, as they help with search engine optimization (SEO). For medical centers and hospitals, backlinks are especially important, as they can help patients find your hospital online. Backlinks also help your hospital website rank higher in Google search results, which can result in more web traffic and leads.
There are a number of ways to build backlinks for your hospital website. One popular method is guest blogging. Guest blogging is when you write a blog post for another website with a high Domain Authority (DA). When you include a link to your hospital website in the blog post, it helps improve your website's SEO.
Another great way to get backlinks for your hospital website is by creating infographics. Infographics are visual representations of data that are often shared on social media.
Conclusion: Digital Marketing For Hospitals
Digital marketing for hospitals is a great way to connect with potential patients. It allows hospitals to reach out to more people in a cost-effective way. Additionally, digital marketing can help clinics, medical centers, laboratories, and hospitals create an online presence that builds trust and credibility with potential patients. Finally, digital marketing for hospitals can help medical centers, clinics, and med laboratories save money and increase revenue.